They are small and friendly, cradling the positive vibes and laid-back, sun-shining culture that the Nicoya is known for. Although several have seen a boom in construction over the past decade, most retain a uniquely mellow and unpretentious feel.
The Nicoya Peninsula has long played an important role Costa Rica's history. Following Central America's independence from Spain in 1821, the peninsula — and much of northwestern Costa Rica, too — became a province of the newly formed Nicaragua. Guanacaste, the name originally given to the area that's still retained today, again traded hands in 1824 when the locals opted to secede from Nicaragua and join Costa Rica. The Guanacaste locals are proud of their history; visitors can still see the province flag waving from many businesses and homes.
Until recently, development in the area was slow. Bad roads and slow ferries made it hard to get to many places on the peninsula. Small towns retained their decidedly local, backwater feeling. All that is changing, however, with better infrastructure — including the recently constructed Friendship Bridge and new international airport in Liberia — and more willingness by ticos to cater to the tourist trade. With these improvements, more travelers are deciding to make Nicoya a part of their trip-and for good reason. There are beaches to bum and waves to surf, parks to explore and sunsets to capture.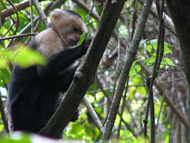 The Nicoya Peninsula is in large part dominated by mountainous terrain. Hills push forward from the center of the peninsula towards the coast, making for a jagged backdrop against the ocean. Although volcanoes were once prevalent, the landscape nowadays is covered with both wet and dry tropical forests. The forests are fascinating and filled with all sorts of plants, animals and insects. And although the parks are markedly different from the well-known parks of central and southern Costa Rica, the Nicoya's parks and nature preserves are stunning in their own right.
There's Barra Honda, which hosts underground caves that help protect a number of rare species (including blind salamanders), or Cabo Blanco, Costa Rica's first national park that's blessed with an incredibly rich ecosystem. The Curú Wildlife Refuge is another option, a small yet biologically diverse refuge located near the town of Curú. It's known for hosting 232 bird species and having a coastline that's frequented by sea turtles during the nesting season. Many travelers will also opt to spend a day at the Montezuma waterfalls. This series of cascades is set in the forest behind Montezuma and provides visitors with an unbeatable place to swim, picnic, or lounge. More.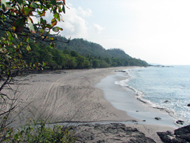 The Nicoya Peninsula has beaches from tip to tip. Although there is variety in both sand color and surfing quality, most beaches are gorgeous and easygoing. Visitors can find secluded spots beneath palm trees and behind rocks, or else lay out in the broad sandy expanse and soak up the sun. The surfing off the coast is some of the best in Costa Rica and there are areas that are good for both snorkeling and swimming as well. What's more, most beaches are within striking distance of towns, making it easy to stock up on provisions or take a break for happy hour. More.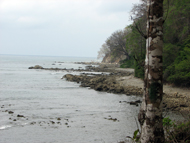 The Cabo Blanco Absolute Nature Reserve (CBNAR) is located along the southernmost tip of the Nicoya Peninsula. Established in 1963, this 2,896-acre (1,172-ha) reserve was the country's first national park — sas such, it has helped establish a tradition of preservation in Costa Rica that continues today. It helps protect some of the peninsula's most biologically rich ecosystems, including three species of monkeys, anteaters, sloths, margays, snakes, and over 150 species of trees. More.
Gulf of Nicoya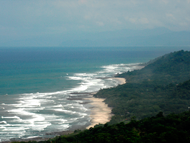 The Gulf of Nicoya is east of the peninsula. While kayaking, boating or swimming in this area, travelers will notice the many islands that dot the sea. Thousands of years ago, a volcanic fault line dropped much of the land into the water; the islands that you see today are the remnants of hilltops that survived submersion.
Tortuga Island is the best-known island in the area, and appropriately, it receives the largest number of visitors. The aquamarine water is clear and home to a good showing of fish. For this reason, snorkeling and scuba diving are popular. The beach is white and backed by swaying palm trees, and further inland visitors can hike through a forest and search for birds.
Isla Chira is the largest of the islands. It's also a nesting site for exotic maritime birds including Long-Legged Waders and Roseate Spoonbills. For this reason, it's popular with birders and animal aficionados.
The water around the islands is often shallow and rich with nutrients. This makes it prime real estate for mangroves and the species that live within them. Indeed, these mangroves play a huge role in the vitality of the Nicoya's ecosystem, as they provide habitat for birds, reptiles and fish. Because of this, the Costa Rican government have established them as protected territory.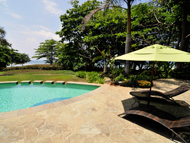 The Nicoya Peninsula has been increasing in popularity over the last thirty years. Although still not overly crowded, the Malpaís area is developing its tourist infrastructure, including hotels. Appropriately, there are accommodations for every type of traveler—garden bungalows and seaside studios, funky hospices and lavish lodges. Most are near the beach and offer a range of amenities that include air conditioning, wireless internet, hot water bathrooms, and a swimming pool. Malpais and Santa Teresa Hotels.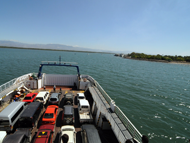 Most travelers will get to the Nicoya from the port town of Puntarenas. A ferry – which takes about an hour to ride and runs several times a day – shuttles travelers to and from the mainland. For flying, Liberia's Daniel Oduber International Airport makes for a convenient landing in northern Nicoya. There are also small landing strips in both Nosara and Carillo.
Highway 21 is a well-paved road that accesses all of the peninsula's towns, beaches, parks and reserves. Many of the small roads, however, that leave the highway and lead to main destinations are often in poor condition. Due to this, a four-wheel drive vehicle is often required, especially during the rainy reason. The rainy season (which generally lasts from May to November) brings torrential downpours, which have a tendency to wash away roads. In addition, some of the region's rivers lack bridges, forcing drivers to forge through the churning waters. Considering all of this, most places on the Nicoya Peninsula can be visited with careful planning and smart decisions. It's definitely worth the effort. Getting to Nicoya Peninsula.